Cats are these cute creatures that sleeps around 15 hours of the day. Mostly their spot to sleep is somewhere around you or sometimes might be on you. If you have a cat you must know about their inappropriate choice of place to sleep.
Cats usually jump on the bed and cuddle around your legs and sleep at the foot side while you are sleeping. All cats do that. Why do they have an affiliation with the foot end? Why do they always sleep there?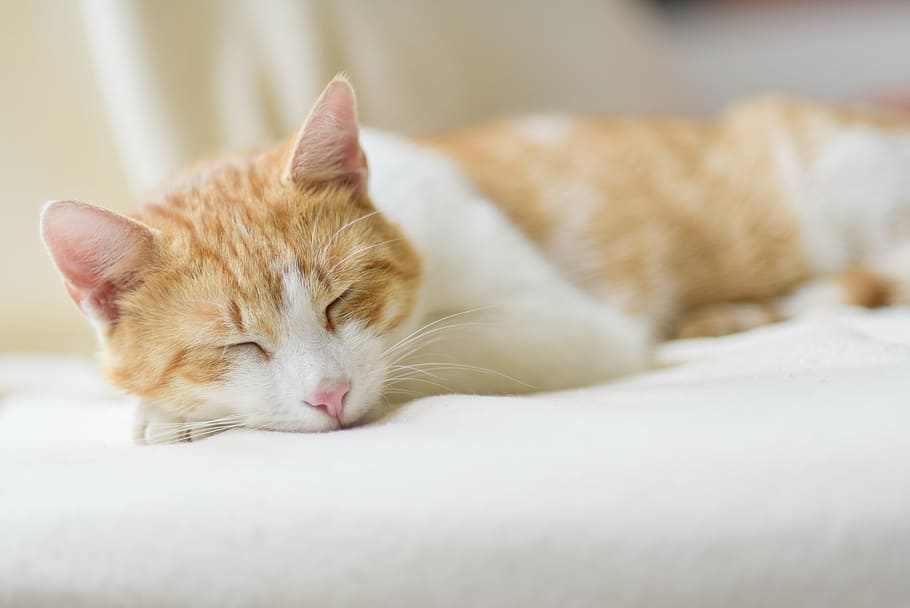 These are the questions that pop up in mind when you have a feline at home. Let's see why:
1. Survival Instincts:
Cats always like to know what is going around. They don't want to be trapped up in a blanket. Staying at the foot end will keep them near you as well as give them a chance to escape in case of any emergency.
2. The feeling of Safety:
Trust me or not, cats rely on you the most. You are someone who takes care of them for your whole day. You give them water and food, you take care of their litter so you are their most favorite person. They also want to stick around their favorite person at night so they feel secure and safe. If your cat snuggles up against your feet and legs that means they feel more protected in this way.
3. Giving Protection:
These cute tiny creatures always want to protect you as well. They are not mean to only escape for their own. They usually stay alert and they stay near so they can wake you up if they sense any danger. Cats can usually sense danger before we do. So along with the feeling of security, they are also giving protection to you by lingering near.
4. Visible Door:
As cats like to be aware of what is happening around they would love to keep an eye on the door too. From that, they can know who is coming in or going out which makes them aware of the situation. Mostly the door is towards the foot end so from there they can have a comfortable view and know-how of the door.
5. Best Temperature to Cuddle At:
Your cats always want to cuddle around. We usually generate a lot of body heat. Our body temperature is warmer at the chest area and a little cooler at the peripheries. Cats want to cuddle in warm but not as warm as our bodies. They like the legs temperature just perfectly fine to have a comfortable sleep. They just love a comfy sleep in a warm environment. Sometimes you might find them sitting near your head. It is because they need a little more heat than your legs.
6. Cats Territorial Nature:
Cats are the animals who have territorial nature the same as the dog have. They mark their territory and sorry to break it to you but that bed is their territory, not yours. They are allowing you to sleep in their territory, how generous of them, no? But they love you, owns you, and feel protected around you so actually this is a cute thing if you think.
7. Less Disturbance:
While cats are very cautious about their sleep and they love to snooze around. They don't want their sleep to be disturbed. While both of you sleeping, your turnovers might be disturbing for them. Your upper body also takes up more space than your legs. So the disturbance is more at the upper body part than the lower one so they like to stay at the low disturbance zone.
8. Avoid Lumpy Areas:
Most of the cats don't like rolled up and lumpy areas of your bed sheet. They like a neater and tidier area more which is the foot area for the same reason that you toss and turn on the upper part of the bed. Cats usually knead their space and turn it to a comfortable pattern for themselves but they don't like the messier portion. One reason for not liking is also that the messier portion will make it difficult to get up and run in case of an emergency.
9. Move Around Without Disturbing:
Your fluffy friend usually sleeps 15 hours a day but they mostly sleep during the day and are often awake at night. They have a perfect night vision. This can help them to move around, drink some water, use the litter box and roam around again. They don't want to disturb you every time they get up and come back to sleep again. So they choose a place good for both, you and them. Do not forget that they really love you it's just they ,it differently than dogs.
So these are quite enough reasons to understand the fact that why your cat sleeps at your foot side during the night. I hope you enjoyed reading it.
Related Questions:
Q. Is it healthy to allow your cats to sleep with you?
Allowing your cat to sleep with you can be beneficial in a lot of ways:
They give you warmth
They relieve stress
They provide you safety and security
They aid in sleeping
And there are a lot more
Q. Is there any harm in allowing the cats to sleep with you?
There are a few risks
The cats might transmit a few diseases but if you keep a good follow up with the veterinarian you don't need to worry about it.
Your sleep might be interrupted as your cat might want a meal in the middle of the night.
Q. What does it mean when a cat sleeps on my feet?
Well, if your cat is sleeping on your feet it is showing no more than affection and love for you. It is their way of telling that they love you and trust you.